Archives for May 2007
May 22, 2007 by Eric Richardson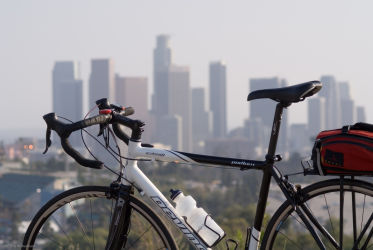 Eric Richardson
I took a ride up Elysian Park today and took a couple bike shots with the skyline in the background. I like how this one came out.
Eric Richardson lives in Los Angeles, California Atlanta, Georgia, and is generally interested in the intersection between technology, community and news.
After founding hyperlocal news site blogdowntown, today Eric works for Southern California Public Radio, building software and tools for radio's move to digital.
---
Previously on this date...
2009
Joe Purdy at the Hotel Cafe

A friend and I took a trip up to Hollywood last night to see Joe Purdy at the Hotel Cafe and, for once, no one fell asleep. It's a long story. The...

2005
Two Nights of Music

I've been quite bad about going to see live music lately. I could make all sort of excuses about being busy and about evening classes, but really...

In There Somewhere

For something that I happen to be doing tonight, I needed to extract full-resolution pictures from Yahoo! Photos. They make that hard to do because I...

2004
Fortress Medici/Orsini

Over at herbie the love blog (why am I so boring at naming?), kenny has good piece on the fortresses that are the Medici and Orsini. There are a pair...

ok, paper's up: Gaming in the Metaverse

I just put the HTML version of my paper "Gaming in the Metaverse" up in verbal intercourse (there's a much more readable PDF version there...

everybody's talking subway again

So apparently while I was snowed under working on my project the MTA had some discussions about future subway building on Monday. An LA Times article...

the finishing is the hardest part

It's been quiet here over the last few days as I've been absolutely enveloped in this last paper for the semester. I'm writing about game...

2003
car driven society

I found my auto insurance card today. I had taken it out of my car a while back to fill out a form and just realized a couple weeks ago that I really...

2002
and in school news...

I've got a final tomorrow, and a final and a paper due Wednesday. It's going to be a long couple days before I fly down to South Carolina on Friday...

the beacon

So right now I can see the beacon from my apartment. I haven't been able to find out anything about when it's lit, and I know I can't have...

1999
on relationships and the Dawson's Creek effect

I don't really plan for this to make much sense, but I've been pondering it some lately and it seems half-way sensible. As such, I'll post...
---
Tweets by @ewrcode
2012-2015 Eric Richardson — e@ericrichardson.com