Archives for May 2007
May 22, 2007 by Eric Richardson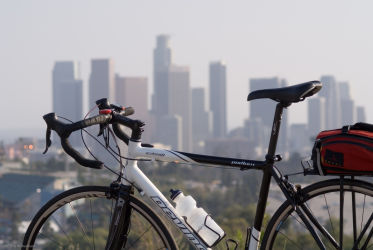 Eric Richardson
I took a ride up Elysian Park today and took a couple bike shots with the skyline in the background. I like how this one came out.
Eric Richardson lives in Los Angeles, California Atlanta, Georgia, and is generally interested in the intersection between technology, community and news.
After founding hyperlocal news site blogdowntown, today Eric works for Southern California Public Radio, building software and tools for radio's move to digital.
---
Previously on this date...
2005
Hang with me, Speakeasy

I'm not very happy that I've had to power cycle my DSL twice this evening. It's normally incredibly stable, but twice now today connectivity...

Putting the Tripmaster to the Test

So despite the fact that I pointed out so many flaws with the MTA's new TripMaster, I still have to use it to plan getting places. Tomorrow I have...

2004
why i'm old-fashioned

Sean Bonner recently wrote a blog post titled "Why aren't you using RSS yet?" In it he raves about what RSS -- and more accurately RSS readers...

the death of an icon

In December I tried to go to Mo' Better Meaty Meat Burgers. The fence was boarded over, and there were no signs of life. I was a bit distraught....

another night of music

So I've had this post sitting on my computer for like three days now and haven't finished it until now. That's pretty sad. I started off...

wifi and catfish

I'm sitting at the Original Los Angeles Farmers' Market, enjoying wifi provided by Sticker Planet. It's a bit hard to find power, but other...

2000
muah haha

I just upgraded a bunch of stuff on the o2. It wasn't easy (the IRIX lib stuff is still an absolute mess), but I now have it running all the latest...

the cameras

I rearranged my cubicle last night, and most of the cameras are currently either down or very dark. Because the Indy cams are now pointed towards the...

1999
Old News (from eNews)

Possibly the funniest thing to ever happen to me here in Michigan happened today. A couple days ago I got a 12-pack of mints from the penguin group, and...

Old News (from eNews)

I started listening to Massive Attack yesterday... Good stuff. Very Portishead-ish. Lots available at Scour I spent a good hour today trying to get...
---
Tweets by @ewrcode
2012-2015 Eric Richardson — e@ericrichardson.com