Archives for February 2007
February 07, 2007 by Eric Richardson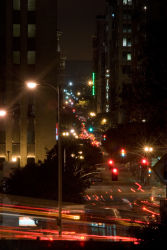 Eric Richardson
The head for my tripod came in yesterday so I wasted no time in taking it out to play. Of course I then managed to run my camera battery too low for comfort, so I didn't last too long.
In the time I did have I was playing with taking shots down Sixth street, which runs east through Downtown. For distance reference, the green neon for the Hayward Hotel is about .7 miles from where I'm standing.
Hardware wise, I picked up Giottos MT-9170 tripod legs. The MT series features a center post that can do all sort of odd things, sticking off to the side, straight down, etc.
I then got a Kirk BH-3 ballhead and Kirk's A100-specific L-bracket. It's the first time I've used a ballhead, so I don't feel like I'm in much of a position to make a review right off. That said, from one night of playing I'm very happy.
February 06, 2007 by Eric Richardson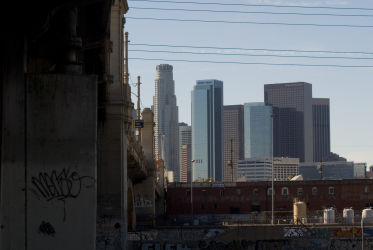 Eric Richardson
I ordered a tripod recently, and at the same time picked up a polarizing filter. This weekend I shot with it for the first time while out taking pictures of the river and the Sixth Street bridge.
The two shots you see at right show what an effect the filter can have on skies. The top picture is without filter (or actually just with it turned and not active), and you can see how the foreground and building fronts are darkened because in order to maintain the sky.
With the filter the sky is brought down enough that the highlights on the bridge and the foreground buildings really come out. You'll also notice how some clouds in the sky are picked out, where in the first version they just blend into the blue.
You can see this all better in the larger versions.