Archives for March 2008
March 21, 2008 by Eric Richardson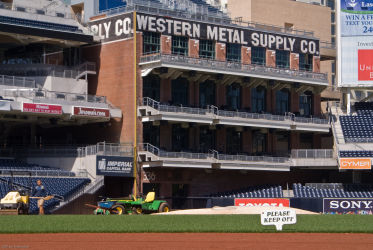 Eric Richardson
Kathy and I took a short trip to San Diego this week, as a little vacation during the start of her spring break. We rode the train down on Sunday afternoon, spend three nights at the Hilton Gaslamp, and then took the train back up here Wednesday.
A highlight of the trip was the tour we took of Petco Park, the Padres stadium. It's a great park, and it was fun to get to see views from all different angles. The shot above was taken from the home dugout.
More photos from the ballpark and the USS Midway in this flickr set.
March 14, 2008 by Eric Richardson
I end up writing enough over on blogdowntown that I just don't have a lot left in the typing department.
A few odds and ends worth mentioning:
I had sent back my Soma frame last month thanks to a crack. I picked the bike back up today, with a new frame (does that make it the same bicycle, or is the frame the heart of the bike?).
Last Saturday I played my first baseball game in six years, going 0-2 at the plate (ground ball to the 3rd baseman and a flyout to left-center) and splitting some time between left field and catching. Second game is tomorrow at 2pm.
Sunday afternoon Kathy and I are heading down to San Diego for a few days during her spring break.