Starting a New Chapter and Moving East
Monday, May 14, 2012, at 03:08AM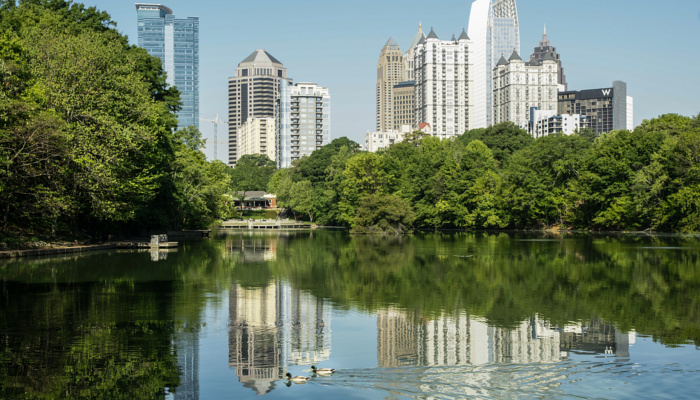 The Atlanta skyline as seen from Piedmont Park, a 189-acre green space near midtown.
It has been a whirlwind month for Kathy and me, starting with a vacation back east and culminating with my last day at KPCC just over one week ago. Next month we'll be backing our bags and moving to Atlanta after a decade here in L.A.
Yesterday I bought the plane tickets: our time as Angelenos ends at 1:10pm on June 15.
Moving back east is a thought that we had entertained for a while, since we don't have any family out here on the west coast. Once Kathy decided that she wasn't going to be returning to her school next year, the conversation about where we might want to be started in earnest.
We went back to South Carolina for Kathy's spring break, and while there decided that we were serious enough about the idea of Atlanta as a possible destination that I should start looking into companies who might be hiring. I sent off a few resumes, and ended up setting two interviews for a day that we would be passing through before flying back out west. Both turned into offers, and a week later I turned in my notice to the station and we began the process of planning a move.
Last Monday I started my new job with Emcien, a company that has a suite of applications built around really fast pattern matching in large data sets. While I won't be going anywhere near the math itself—I had to admit during my interview that my last math class was my junior year of high school—I'm really intrigued by the challenges that come in building the applications that allow users to make effective use of their data and the results that come out of it.
blogdowntown stays at KPCC, where it hopefully has a long life ahead of it. My day-to-day involvement in the site ended back in January, so our move won't create much of a change there. I'll continue to be involved with the open-source development of AssetHost and StreamMachine, the visual asset handling and audio streaming systems I wrote while there.
There's a lot that we'll miss here in L.A., but we're excited to head out on a new adventure. Unfortunately, that adventure starts with logistics: this week I get to start calling movers.
---