We're New Homeowners
Monday, October 08, 2012, at 12:46AM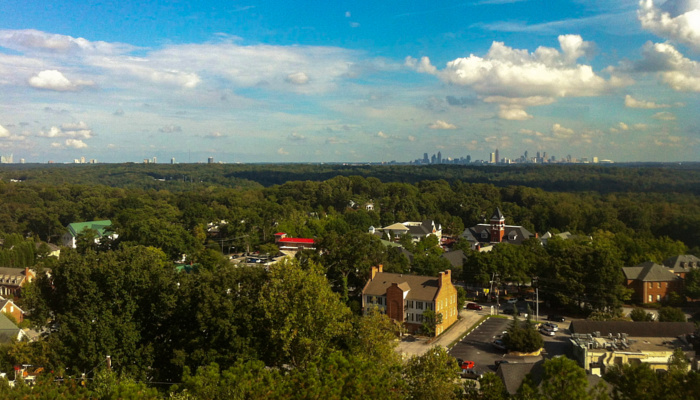 Eric Richardson
A view over the neighborhood of Vinings, GA, from Emcien's office (our new home is at the bottom of the hill to the right). In the background is downtown Atlanta.
Kathy and I are now homeowners. The last week of September we closed on a townhouse in Vinings, a neighborhood tucked just inside the 285 perimeter to the northwest of downtown.
If you look at our map from back in June, Vinings wasn't really on it (and neither were townhouses), but over the summer my work relocated there from midtown. That took away the idea of looking for something near transit, and instead we ended up asking ourselves how you could really do better than somewhere in walking distance of the new office.
We decided you couldn't.
Friends helped us move our stuff from storage a week ago, so this weekend was the first we spent as homeowners in our new place. Even with buying new construction, there were still plenty of projects to get started on.
On Friday we stopped by a Lowes to pick up two Nest thermostats, replacing two basic programmable stats with a device that has a little higher geek cred. I had been eying them after how highly eecue spoke of his, and the combination of a price break after the introduction of the second version, a 10% off coupon and a Georgia tax-free weekend for energy purchases let me pick up the $250 device for a little under $200. Good thing, since I needed two (and really could use three—I didn't switch the stat on the third zone on our bottom level).
I got those up and running quickly on Saturday morning, and Sunday got to do the much less exciting task of installing towel racks and a new showerhead (1.75 gpm may be "eco-concious", but it just wasn't cutting it).
Vinings has given us a bit of the walkable lifestyle we missed from our time in downtown L.A. There are a number of good restaurant options in easy walking distance, along with yogurt, ice cream and a few shops. No good coffee, though... Still miss that.
---