End of a Chapter: blogdowntown Shuts Down
Thursday, August 29, 2013, at 03:42AM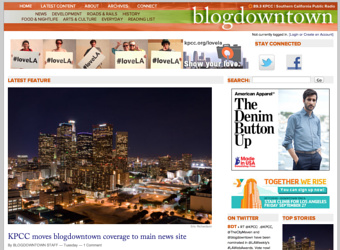 blogdowntown
The blogdowntown home page on the week that KPCC announced they will be shutting down the site, which I started in 2005.
On Tuesday afternoon KPCC shut down blogdowntown, the community news site that I started in 2005. It's not much of a surprise: the site has been drifting downward since February of 2011, when I had to stop printing the weekly paper that we had launched six months earlier.
It was an amazing ride while it lasted, though. What started as just me writing about my exploration of a neighborhood turned into a news source that at its peak was attracting 40,000 to 50,000 unique monthly visitors. That traffic was down more than half by the time KPCC pulled the plug.
In the end, the question I couldn't answer was the same one that has been haunting journalism for years: how do you make money on this?
As Kevin Roderick noted at LA Observed, we went through several models over the years. We tried the non-profit thing, but discovered that local businesses really don't care about a tax write-off—they care about whether you can bring people to their door. The print edition was by far the biggest shot at making a financial model, and I believe that it is one that could have succeeded given a little more runway and a little more business savvy.
That's the biggest lesson I took away from my time as an attempted entrepreneur: I can't do everything, at least not all at once. If I were doing it all over again I would have made sure to find a partner who could have lived and breathed the numbers side in the same way that I did the content side. When I was having to wear both hats, too often it was the money side of things that got put off in favor of the content and the product, and that's clearly not sustainable.
As I became less a part of blogdowntown after going to KPCC, I threw myself back into technology to fill the void of the writing and photography that I had come to so enjoy. It's been a fun rediscovery to realize how much I do enjoy building systems and software, but I definitely have a soft spot still for the world of journalism. Who knows, our paths may again cross one day...
---