Archives for November 2013
November 21, 2013 by Eric Richardson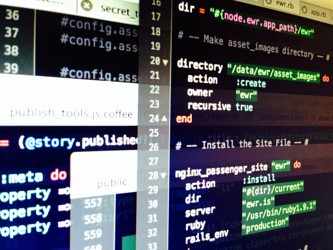 Eric Richardson
I brought this site out of mothballs last month by bemoaning how easy it was to fall behind on the things that we do for a living. I'm proud to say that I took my admonition to heart, and today this site is running on a newly spun-up virtual machine that is 100% built via automation.
I'm using Chef for configuration management, since that's what I use day-to-day at Emcien. My little one-server deployment gave me an excuse to try out their hosted product, as compared to the open-source server we're running. — Continue Reading...
November 20, 2013 by Eric Richardson
Nearly two months ago, Kathy and I returned from a whirlwind ten days in Europe. The purpose of the trip was to revisit a few of Kathy's favorite places from her semester in France, and along the way we discovered a new favorite in the Swiss Riviera.
Technical difficulties (see my post about falling behind) kept me from posting these favorite photos here earlier, but I think it is only right to eventually give them a public viewing.