New Chapters
Wednesday, October 01, 2014, at 12:27PM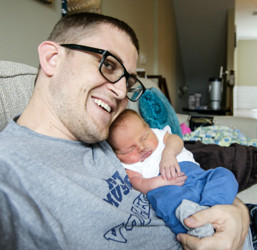 Eric Richardson
A sleepy Bobby chilling on the couch with me at five days old.
September was an eventful month.
On the 20th, Kathy and I became the very proud parents of a very little boy who shares the name Robert with one grandfather, two great grandfathers and a great-great grandfather.
And then yesterday I ended the month with my last day at Emcien, where I've been working for the last two-and-a-half years since moving to Atlanta. On Monday I (virtually) head back to my last job with KPCC, where I'll get to dive back into a lot of cool ideas about the future of radio.
During the time since I left, we've continued to slowly push forward on StreamMachine, the streaming audio server that I had written for the station. I'm very excited to get to ramp that work up and dive back into all the other cool things that we can do to deliver great content to listeners in this ever-more-connected world.
---