It's been a bit...
Sunday, January 16, 2022, at 10:21AM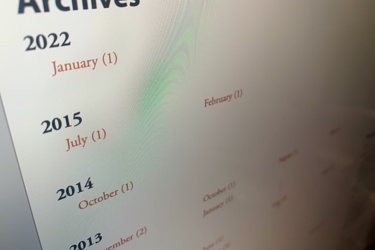 Years have passed quickly and sparsely in the post archives here.
After thoroughly ignoring this site for the last six and a half years, I'm going to try to get back into a slightly better flow of posting something every now and again.
A lot has happened in between my last posts in 2015 and now. The kid who had just been born in this 2014 post is now seven and in first grade. He's got a brother, Brent, who is five. We've moved houses twice, and since early 2016 I've been working for Square, where I took a job to do Ruby code and somehow quickly ended up in payments. Turns out, it's a fun space, and six years later I'm still learning it as I help teams on Cash App's Financial Platform figure out how to move money around the world.
I've been loosely thinking about bringing this site back to life since mid-2021, when I picked up an M1 iMac as my first non-work computer in a bit. My 2012 Macbook Pro had gotten claimed by Brent when the boys suddenly needed technology for virtual school in the fall of 2020. Copying things over to the new machine made me a bit nostalgic, so I figured I would just get the old code for this site running and pick off some changes that had been on my todo list for a decade or so...
Turns out, trying to resurrect old Ruby code on a different architecture isn't straight-forward. This blog is running a version of Ruby on Rails that came out in mid-2013, running on a Ruby version that came out in late 2014. The Chef cookbooks to provision the AWS EC2 instance I'm hosting this on were put together in late 2013.
It's a bit amazing that it all still works in production, but also kind of terrifying to get working again to migrate to something more modern. My goal would be to switch the blog content here over to a static site generator, but I still want the nicety of a web UI for composing and for uploading image assets. I've debated between just starting from the database content and trying to adapt it to some more modern platform, or trying to get the current Rails code up to date and then just adding a static output generator. I haven't gotten far on either approach yet, so TBD.
Step one: figure out how to deploy some slightly updated templates to fix my bio and some copyright dates.
Somewhere along the way I want to do the same thing to blogdowntown, the site I ran for years about Downtown Los Angeles. The site belongs to Southern California Public Radio today, but it's fallen off their radar and hasn't been online for the last few years. I have a database dump and I think enough image assets to restore most of the archives, but I just need to get enough code running to figure out a game plan.
So, sometime in the next six years or so?
---